Now that the Summer has arrived, you may be looking for unique birthday party ideas to hold your child's venue. The weather is toasty, so you don't necessarily need to stay indoors and probably wouldn't mind some additional activities for your child to engage in on his/her special day. Boston Pizza Clifton Hill is a unique establishment that offers a wide variety of birthday party ideas for you to select from. Catering from young to old, there is a birthday party package for everyone, and since it's located in the prime hot spot of Niagara Falls, on Clifton Hill, there will be plenty to do before OR after your venue!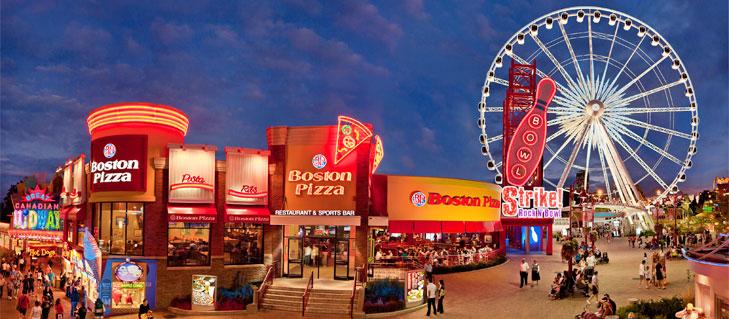 Children's Birthday Party Packages
Boston Pizza Clifton Hill completely differs from the other Boston Pizza chains in that this establishment is located on the upper level of a 70,000 square foot building rich in arcade games and midway rides called the Great Canadian Midway. Kids will love having their birthday party held here because of that reason! There is literally a game for every taste and a prize redemption centre on the lower and upper level of the building. Also unique to this facility is a relatively new addition to the building; a 25,000 square foot 14 lane, 10-pin bowling alley called Strike Rock N Bowl. As the food is getting prepped, kids will stay entertained by playing some of these games. Instead of a typical birthday party package at any other restaurant, check out some of these birthday party ideas that include not only a meal that kids love, but entertainment as well:
The most popular birthday party package includes unlimited cheese/pepperoni pizza, non-stop soft drinks, cookies and ice cream, 25 Great Canadian Midway tokens per child and 1 hour of bowling at Strike Rock N Bowl for only $25/person, taxes included. The Kids Ultimate Fun Package will keep the kids amused for hours, while adults can relax at one of two bars in Boston Pizza while watching the game on any of the big screen tv's throughout this Niagara Falls restaurant. You even have the opportunity to book birthday party ideas around the game ahead of time as Boston Pizza Clifton Hill lists their daily game scheduling online. Click here to check out the events page!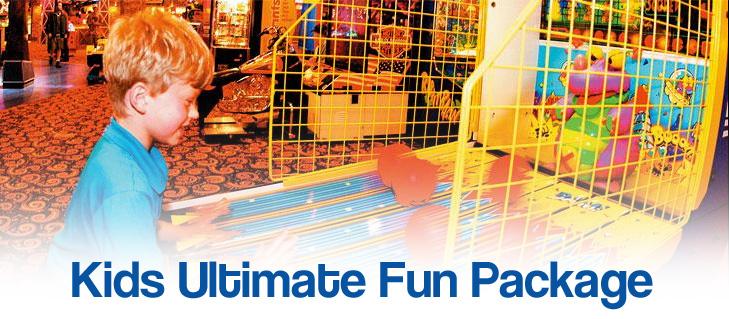 The Kids Deluxe Fun Package includes all of the above, but without the bowling, for only $20/person all inclusive. For details on either one of these packages please call 905-358-2750.
To make your child's birthday party extra special, include some attractions in the Clifton Hill Fun Pass! For only $19.95 for children ages 12 and under (50% off the retail cost!), your child can head downstairs to the lower level and go on the Ghostblasters Dark Ride, an interactive black-lit adventure ride through a haunted hotel in which they try to beat their opponent by shooting targets with laser guns, the XD Ride Theatre , a 6-Dimensional roller coaster through space and as a bonus they will receive an additional 5 Great Canadian Midway tokens. Just steps outside the door are the remaining 3 attractions in the Fun Pass. The Movieland Wax Museum of Stars where kids can pose with their favourite celebrity encased in wax such as Justin Bieber, Harry Potter, the Twilight stars and Katy Perry, as well as their choice between Dinosaur Adventure Golf outdoor miniature golf or indoor glow-in-the-dark miniature Golf at Galaxy Golf. The 175 foot Niagara Skywheel ferris wheel is also included and if you purchase the Clifton Hill Fun Pass ahead of time online, the kids will also receive an additional Niagara Skywheel admission!
Here is a video featuring the attractions in the Clifton Hill Fun Pass:
If you have yet to have tried out the Strike Rock N Bowl facility, tweet me at @cliftonhillfun why you think you should win and I will randomly select a winner by Friday, June 28, 2013 at 5:00 pm for a game of bowling for you and a friend!
With the weather getting beautiful, if you are looking for birthday party ideas that are fun and exciting for your child, Boston Pizza Clifton Hill has plenty of options for children as well as customized birthday party packages for adults too! Click here for the full range of packages for all ages.


Christine
www.cliftonhill.com
Facebook: Clifton Hill – Niagara Falls Fun
Twitter: @cliftonhillfun
Google+: Clifton Hill Niagara Falls