2017 marks the official 150th birthday of Canada. Celebrate your Canadian pride with these upcoming Canada 150 events in Niagara Falls. Keep in mind, there will be events throughout the year, however this list will feature some events until August 31st.

1
When visiting the majestic Niagara Falls, be sure to head over to the Table Rock Centre and take your picture with their newest feature — the 3D Canada 150 sign. The sign will remain in place for the duration of the year. Additionally, keep your eyes open for photo opportunities with the 30,000 red and white tulips that have been planted along the Niagara Parkway specifically for the occasion.
2
Pieces of Canada, 150 Objects, 150 Stories
The Niagara Falls History Museum will feature this exhibit from May 20th – December 31st, 2017. These are artefacts that were donated by the community after the museum reached out to community members asking the question "What does Canada mean to you?". The community responded by loaning the museum personal objects that tell a patriotic story.

3
Niagara Falls Canada Day Celebration: June 30th – July 2nd, 2017
Enjoy free Canadian-inspired activities and entertainment all weekend long! This year will be extra special as we mark Canada 150 with events spanning over the entire weekend, and not solely July 1st. Residents and visitors can join a range of festive activities across the City.
See what the City of Niagara Falls has planned here!
4
Queen Victoria Park Coca-Cola Concert Series
In previous years, live entertainment would hit Queen Victoria stage at 8:00 pm before the Niagara Falls Fireworks on Friday's, Sunday's, and Holidays. This year, to celebrate Canada's sesquicentennial, the concerts will run Monday's to Friday's from July 3rd – August 31st, 2017. For Canada Day, there will also be concerts on July 1st and 2nd.
*Note: To add on to that, the fireworks shows have also switched from Friday's, Sunday's, and Holidays, to daily from Monday – Friday at 10:00 pm from June 12th, 2017 straight through to September 1st, 2017!

5
Matthew Good performs a FREE show!
On Saturday August 26th, the Scotiabank Convention Centre will present a day of fun including a children's area, a mini Comic Con, an art showcase, and food trucks featuring Canadian fare.
The highlight of the day will begin at 7:00 pm when Juno award-winning Canadian, Matthew Good will perform a FREE show with special guests The Blue Stones! This is a 19+ licensed event, with limited capacity, so arrive early. The doors open for 7:00 pm.
More information on this event will be released as we get closer to the date.
6
Canada 150: Niagara Falls – Then and Now
The Niagara Falls Public Library will host a "photographic journey through the years" that brings photos from their Historic Niagara Digital Collections, and they will place them in the locations that they were originally taken. From July 1st to September 4th, 2017 you may pick up a map of the photo locations at any Niagara Falls Public Library location.
Get your Canada 150 essentials on Clifton Hill for the taping of the show at the Canada Trading Company!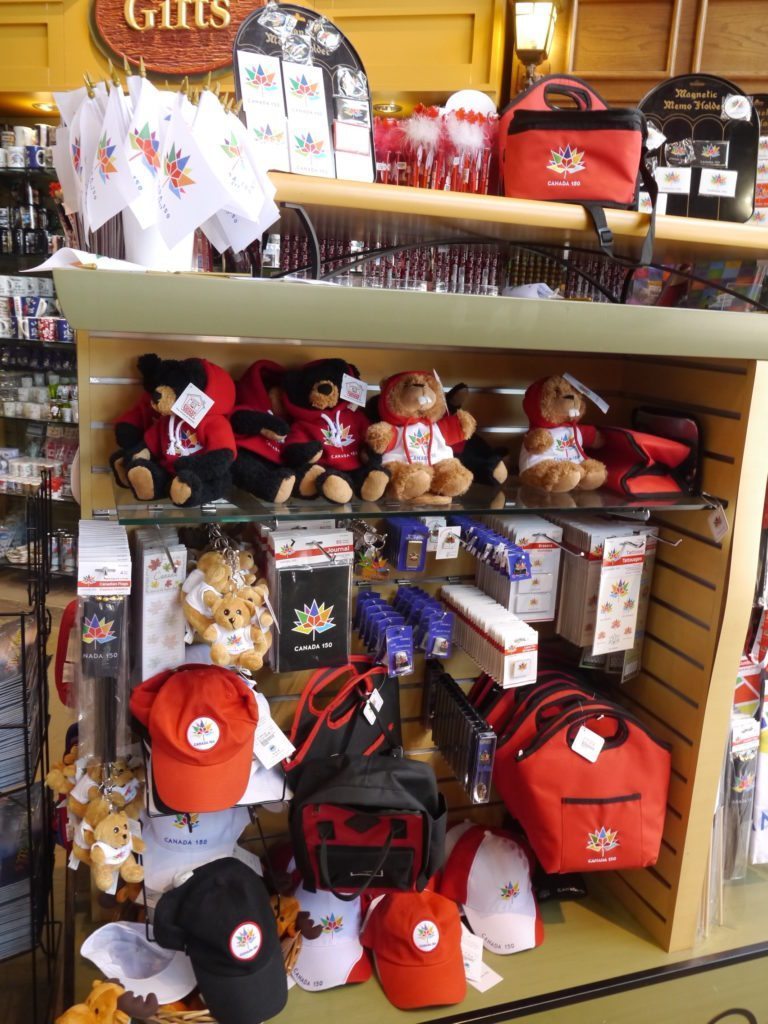 7
Canada 150: Niagara-on-the-Lake "Confederation Celebration"
Enjoy FREE traveling concerts throughout Niagara on the Green, Old Town NOTL, Queenston, St Davids and Virgil, which will feature a line-up of musical and original theatre by local talent on various dates throughout June and July!
On July 1st (8:00 am to 10:00 pm), celebrate Canada's 150th birthday with the Fort George Canada Day event. Enjoy musical entertainment, a BBQ, musket demonstrations and cannon firings. It will conclude with a concert and fireworks display.