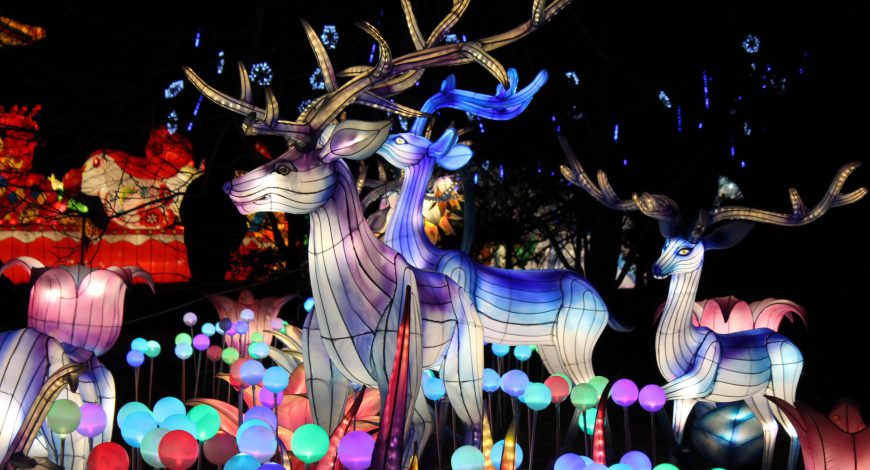 Seasky International Light Show
Seasky International Light Show will illuminate the season with a giant lantern exhibit walking trail and an immersive cultural experience.
Tickets are on sale now for the Seasky International Light Show opening in Niagara Falls, Ontario (November 18, 2021 – February 27, 2022).
Light Show Details

WHAT: Seasky International Light Show
WHERE: 10215 Montrose Rd, Niagara Falls, ON L0S 1K0 - Located in the Árpád Park Hungarian Hall Grounds. Limited free parking see website for details, first come first serve.
WHEN: November 18, 2021 - Feb 27, 2022 Thursday-Sunday only opening @ 5:00 pm.
TICKET INFORMATION: Purchase online for discounts: https://lightshowinternational.ca/tickets/
Limited tickets will be available at the door at regular price for your convenience.  All safety protocols in place.
ACCOMODATION DISCOUNT: Premium hotel partners in Niagara Falls will be offering discounts to attendees of event.
This outdoor lantern extravaganza allows visitors to explore over 30 magical displays on an illuminated 1.5 km trail of lights-  each handcrafted by some of the world's leading lantern artisans and lighting up the night with creative splendor.
The show which has travelled the world brings unsurpassed design and the latest advances in technology together for a must visit experience that is unlike ever seen in the tourist area before.
Highlights of the exhibits include a footpath of luminated natural landscapes, life- like animals from the past and present, mystical characters and installations of magic and whimsy from around the world, making it the perfect seasonal and family entertainment. (Video Preview Below)
Early Bird tickets will go on sale to the general public beginning Friday, October 22 with 15% off until November 18 with COUPON CODE: EARLYBIRD15.  Ticket prices are: $24.95 - $34 (tax and service fees not included, Children 3 and under free). For more information, visit https://lightshowinternational.ca/ or follow Seasky on Instagram and Twitter and Facebook.
We encourage everyone to enjoy our show! Tag us on social media and use the hashtag #LightShowNiagara
About  Seasky:
Seasky was established over 3 years ago with the vision of bringing family friendly attractions to the beautiful Niagara Region.
The name unites the sea and the sky. The sea represents the distance between Canada and the rest of the world with the light show bringing our cultures together. The night sky reminds us that no matter where we are in the world, we all can look up and be connected by the same view. 
This signifies unity and hope as the stars remind us that no matter how dark the night may be, there will always be stars to light our way.
The light show is a magical, unique experience that brings our world together at a time that we need it most and the team at Seasky look forward to welcoming everyone.