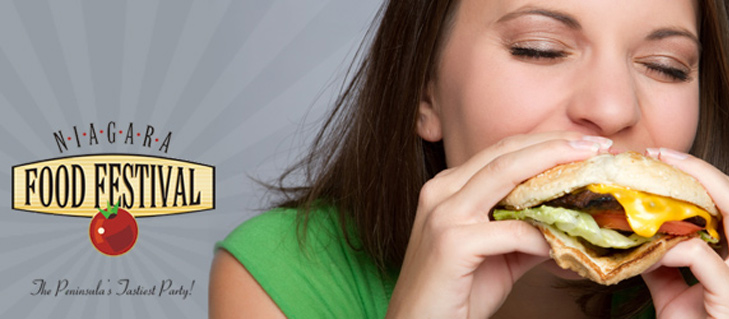 Niagara Food Festival
Niagara Food Festival in Welland Ontario
September 11 to 13, 2015
The Niagara Food Festival offers fantastic food from local restaurants and food producers, celebrity chefs on the Mobile Culinary Theatre, live entertainment for all ages and much, much more.
With more than 40 vendors, major Canadian touring acts and high-profile celebrity chefs, the 22nd edition of the Niagara Food Festival promises to take The Peninsula's Tastiest Party to a new level for 2015.
An expanded footprint featuring a selection of local wineries, breweries and distilleries has been added to the 2015 festival. The food vendor list is still growing each day, and an exciting roster of chefs with local ties is still being developed.
Over the past few months organizers have been focused on the secret ingredient to this year's festival – the mainstage entertainment. Details of the line-up, were announced:
Saturday night will feature Juno award winning, Canadian recording artist Kim Mitchell. Friday night will have more of a focus on Niagara's live music scene and will feature the bands Redline, Wednesday's Engine and Orangemen. Along with Kim Mitchell, Saturday's main-stage entertainment will showcase breakout stars The Mandevilles as well as local favourites Street Pharmacy, while Sunday will showcase country artists River Junction Band and Brad Battle. The focus on country music is perfectly timed with the recent launch of Country 89, Niagara's newest country station that launched earlier in February this year.
For information about the festival or to purchase tickets to the Patio Lantern Party, please go to: