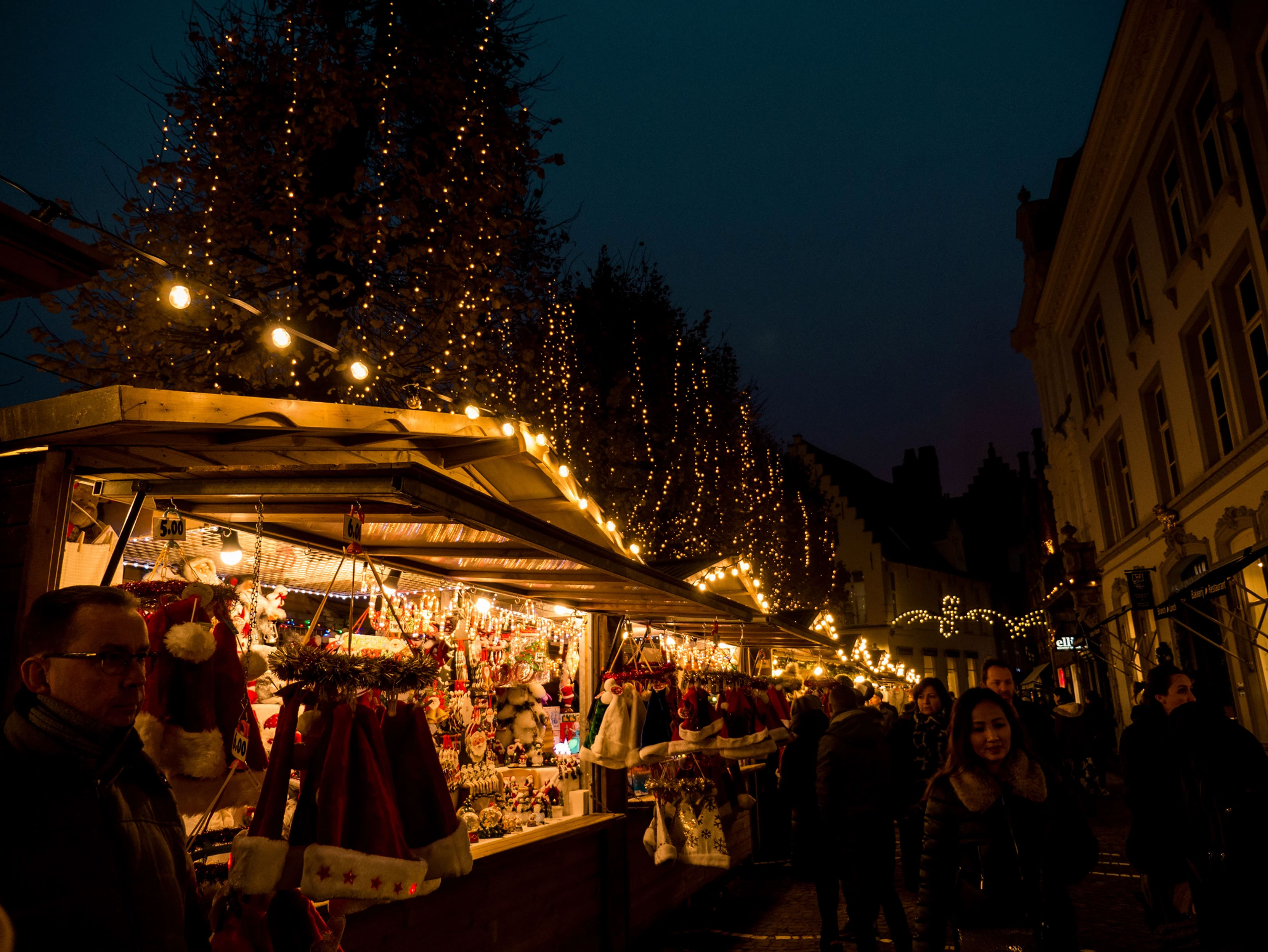 Niagara Falls Christmas Market
The Niagara Falls Christmas Market is a free and unique, holiday experience for the whole family that takes place every Fri, Sat & Sun from Nov 12th until Dec 18th. Discover a variety of local vendors, artists, food & more. 
When
Weekends Nov 12th-Dec 18th
Fridays: 5pm-10pm
Saturdays: 1pm-10pm
Sundays: 1pm-4pm
Where
4605 Queen St, Niagara Falls, ON L2E 2L6, Canada
The Downtown Niagara Falls BIA (NFBIA) will be hosting an outdoor Christmas market that will last 6 weekends long. The Christmas Market will take place on Friday, Saturday, and Sundays, and is set to kick off on November 12th after the Santa Claus Parade. The Niagara Falls Christmas Market will be open every Friday (5 p.m. - 10 p.m.), Saturday (1 p.m. - 10 p.m.), and Sunday from November 12 to December 18. (12 pm – 4 pm). November 12th until December 18th.
The Niagara Falls Christmas Market has a lot going on; come to Downtown Niagara Falls to experience the market, which has grown three times the size this year! With an increased space, new light displays, character appearances, and some unique surprises, the Market will be larger and better than ever before. At Canada's most magical market, you can go Christmas shopping, listen to live music, take photographs with Santa, and so much more. Continue reading for more information on what to anticipate! Visit for additional information, including how to become a vendor.
This unique experience will feature a variety of different local vendors each weekend, including food, artists, handmade goods and more! The market will also feature a unique Christmas display, and stunning outdoor lighting from the Winter Festival of Lights.
Santa Claus Parade in Niagara Falls
The Niagara Falls Santa Claus Parade Presented by Ontario Power Generation will kick off the first night of the Christmas Market on November 12th, 2022. The procession will start at 4:00 p.m. at Victoria Avenue and Armoury Street, proceed to Valley Way, turn right on Queen Street, and terminate at City Hall with a Tree Lighting ceremony. Come witness the floats, musicians, dancing groups, and more as they parade through Downtown! More information about the parade is available here.
Local Businesses
There are a variety of businesses in Downtown Niagara Falls that you're sure to like, from cafés to apparel boutiques and everything in between! Get your Christmas shopping done while supporting the local economy. Some Downtown merchants will sell their wares in cabins along the promenade, while others will keep their shops open throughout the Market. We urge you to stop by their stores and discover everything Downtown has to offer! A complete list of Downtown businesses may be found here. Many of these establishments will have deals and promotions available exclusively during the Christmas Market, so keep an eye out!
Vendors
To browse on the promenade, there will be a lot of small business vendors in cabins. There will be something for everyone on your shopping list thanks to the large selection of goods! Jewelry, crystals, woodworking, handcrafted crafts, clothing, and more are all likely to be present.
Santa and Mrs. Claus photos
You still have time to make the lovely list! Every Friday from 5 pm to 8 pm, Santa and Mrs. Claus will take time out of their busy schedules to see you at the Niagara Falls Christmas Market. They can't wait to see what's on your wish list and take a picture with you! Niagara Helicopters will be offering pictures with Santa and Mrs. Claus at City Hall, 4310
The Niagara Falls Christmas Market will be an enchanting outdoor experience that gives people across the Niagara Region the chance to come out, experience Downtown, and support their local community during the holiday season.
Visitations by the Grinch
The Grinch won't be far behind since Santa Claus will soon be in town! This year, Mr. Grinch is returning to the market after departing from his residence on Mount Crumpit. He can be seen making trouble along the promenade or bothering Santa and Mrs. Claus as they attempt to take pictures. Possibly, if he's in a good mood, he'll let you to take a picture with him as well!
Favorite Characters
Princesses, princes, superheroes, and other characters you love have expressed excitement about visiting the Niagara Falls Christmas Market this year. Every Sunday at City Hall, 4310 Queen Street, there will be characters waiting to greet you and take pictures.
Photo Opportunities
You can take pictures not only with Saint Nicholas but also with a tonne of other beautiful backdrops for your Instagram page. At the market, there are plenty of sparkling lights that provide the ideal backdrop. A selfie wall with the cutest vintage couch and charming decorations is also available, as are light displays of Santa's sleigh, enormous ornaments, and even big ornaments.
Animated Light Shows
As we previously stated, there will be a tonne of beautiful light displays at the market, but there will also be some that can be engaged with. Take a stroll through our enchanted star tunnel (seen above), pass through a huge light-up gift, perform some music on our enormous piano, and more!
Glow Swings
This year, we're bringing these market favourites back once more! These enjoyable egg-shaped swings have LED lights inside that turn on at dusk and sparkle in a brilliant rainbow colour. Built-in handles on these swings allow you to spin around as much as you like.
Glow Seesaws
Additionally, the seesaws include a line of vibrant LED lights inside of them that enhance the magic of playtime. These shining playground icons are enjoyable for everyone.
Live music
Who doesn't enjoy moving to live music while dancing? Local bands and performers will be delivering live shows of all genres, including, of course, a lot of holiday music.
Food Trucks
Are you becoming hungry after having so much fun at the market? There will be lots of food options to assist you increase your energy, so don't worry! In addition to dining at one of the many restaurants in Downtown Niagara Falls, there will also be food trucks parked along Market Street selling grab-and-go treats.