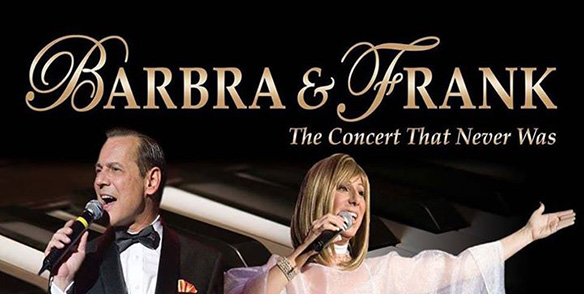 Barbra & Frank: The Concert That Never Was
Now in the Las Vegas hit show Barbra and Frank, the rapport of these two 20th century icons is immediately prevalent with outstanding performances by Sharon Owens and Sebastian Anzaldo.
The show includes segments in which Streisand and Sinatra create masterful duets and a highlight of the show is a delicate blending of two of their signature songs as Sinatra croons "It Was A Very Good Year" intertwined with Streisand's memorable "The Way We Were".
Critics describe the concert as a gem of a show.
Where: The Greg Frewin Theatre
When: Wednesday, May 27th, 2015 at 1:00 pm (Matinee) or 7:30 pm (Evening Show)
For tickets please visit www.gregfrewintheatre.com