This year in 2013, the Ontario Power Generation presents the Winter Festival of Lights in Niagara Falls from November 9th, 2013 to January 31st, 2014.  Canada's foremost illumination festival captures the magic of the holiday season, located within the main tourism district along the Niagara Parkway, overlooking the gorgeous backdrop of the Niagara Falls. The Winter Festival of Lights transforms the Niagara Parks into a "Winter Wonderland" that attracts over 1.5 million visitors annually.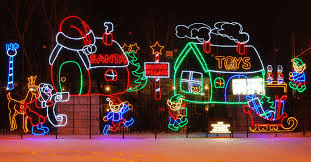 Instead of the familiar Disney displays, festival organizers have set up about 20 Korean lantern displays to commemorate the 60th anniversary of the end of the Korean War and 50 years of diplomatic relations between Canada and South Korea.
In total, this year's festival will feature 125 displays and three million tree and ground lights along the Niagara Parkway.
*There is no admission fee to view the illuminations, but donations are gratefully accepted at the exit of Dufferin Islands (suggested contribution ($5 – $10 per car; $1 per coach bus passenger), with proceeds used to enhance the lights and displays*.
These magnificent illuminations include displays that welcome international tourists, from the world's largest Canadian-American Flag to "Religions of the World" displays.
The kick-off to the Ontario Power Generation Winter Festival of Lights begins with an extended 15 minute fireworks display at Queen Victoria Park on Saturday, November 9th at 7:45 pm.
Fridays: November 15, 22 & 29
Fridays: December 6, 13 & 20
Nightly: Saturday, December 21 to Saturday, December 28 except for Christmas Eve and Christmas Day
Fridays: January 3, 10, 17, 24 & 31
All performances take place at 9:00PM unless otherwise noted. Fireworks schedule is subject to change.  As always, fireworks performances are weather permitting and may be cancelled due to poor weather conditions like high winds or rain.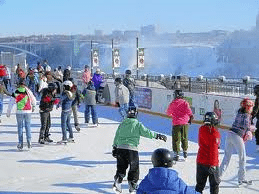 Open from December 1, 2013 to February 28, 2014, this is an outdoor skating rink that overlooks the Horseshoe Falls and is the perfect activity to do with the whole family for an afternoon. It's recreational ice skating, complete with skate, helmet and locker rentals.
The Winter Festival of Lights "TD Rink At The Brink" is located next to the Table Rock Welcome Centre at 6650 Niagara Parkway.
You can't beat the price at $8.00/person with children 6 and under free! Skate rentals and skate sharpening are $5.65 each with free helmets provided and $1.00 locker rentals. Season passes are available as well at $30.00/person or $109.00 for a family of up to 5.
If you are interested in group pricing or private function rentals please click here.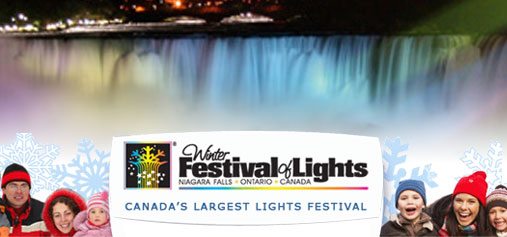 Accommodations
If seeing this multitude of activities and watching one of the most beautiful wonders of the world interests you, you may be looking for accommodations near the Winter Festival of Lights. The Comfort Inn Clifton Hill is conveniently located on Clifton Hill, where all the excitement lies, and just a 5 minute stroll away to the beautiful Niagara Parks and the home of the Falls and the Festival of Lights.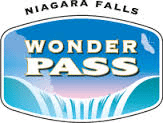 You can't beat the location and with a Traveler's Choice award by Trip Advisor for a "Top 10 Hotel for Families", it's a spacious, family friendly hotel that offers a wide variety of discounted package deals with its "Build-A-Package" option. When you reserve your room online, you will be prompted to an opportunity to select from attractions that you may wish to visit, retail discount options and dining discounts. You can easily add these on to your bill and have your vouchers ready for you at check-in to further optimize the convenience of your stay. New this year, is the "Niagara Wonder Pass". Save 15% on 3 popular Niagara Parks attractions, the Journey Behind the Falls, Niagara's Fury , and the Butterfly Conservatory.
Don't forget to take in all the sights and sounds of Clifton Hill and its popular attractions! The Clifton Hill Fun Pass allows you to do a variety of its family fun attractions with 5 great attractions at one low price of $25.95+tax for Adults and $19.95+tax for Children. Included in this pass is the Niagara Skywheel – ride 175 feet high above Clifton Hill and the Niagara Falls in a giant ferris wheel and take amazing pictures of the Winter Festival of Lights from this vantage point!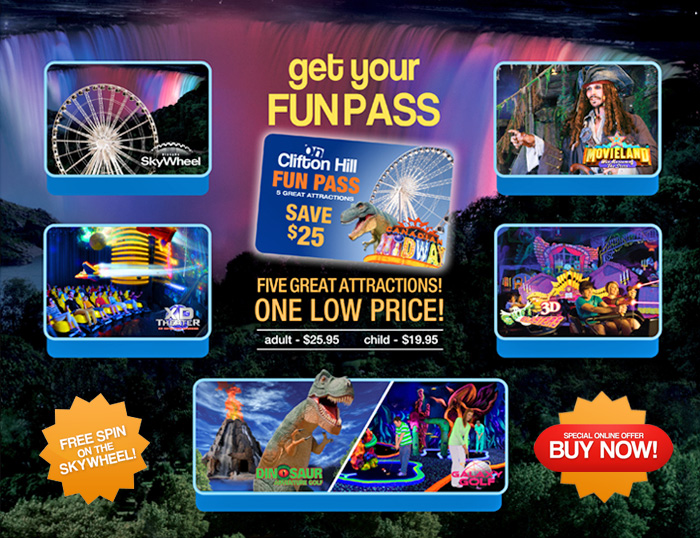 For more information on the Winter Festival of Lights please contact: info@WFOL.com or call 1-800-563-2557.
Winter Festival of Lights Social Media pages: Facebook or Twitter
*If you wish to broaden your resume or simply wish to give back to the community, volunteers are welcome! If you have any questions about volunteering with the Winter Festival of Lights, please call the Volunteer Coordinator at 905 374-1616 x. 240 or volunteer@wfol.com.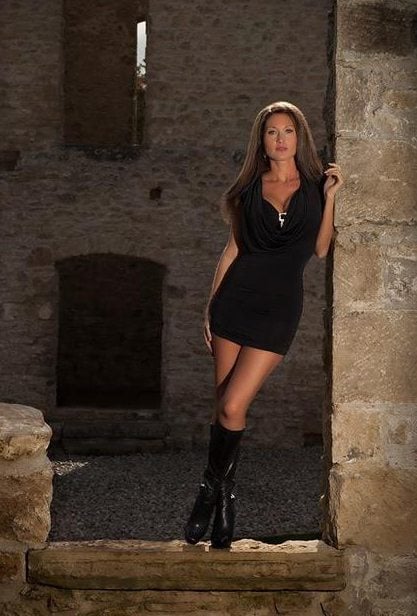 Christine Lynn
Facebook: www.CliftonHill.com/fb
Twitter: www.CliftonHill.com/twt
Google+: www.CliftonHill.com/gplus