Valentine's Day. The day we ladies pretend not to care about, but secretly we sit and stew if you hand us a corner store $2.99 card and a single red rose. We DO care…we want to be treated like a queen and we want the whole production, and that's the honest to God truth. So now that you guys know this, what do you do? Where do you go? What can you do above and beyond the stereotypical card attached to roses and chocolate? Relax, I am here to hold your hand and guide you through the steps to something completely unique.
Go big or go home! You need an overnight stay for one or two nights…but where do you stay ? There is nowhere that is more romantic then the "Honeymoon Capital of the World". I'm talking about Niagara Falls baby! They have a variety of Valentine's Day packages available, but one place that jumps to mind is the Comfort Inn Clifton Hill. The prices are really reasonable this time of the year and you can't beat the location. You are literally just steps away from all the attractions, dining, nightlife, the majestic Falls and many other amenities! You can romance her while keeping a tab on your finances as well!
http://www.cliftonhill.com/niagara-falls-hotels/comfort-inn-clifton-hill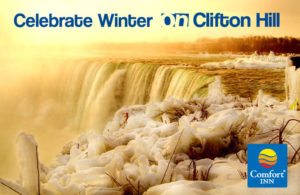 Now that you have checked in and you are all settled you may be looking for direction on where to go from here. Why not look into a few packages available? Here's a couple worth considering, and one of which is perfect if you can't get away from the kids or simply just want to make it a family occasion.
Package 1: The Niagara Couples Getaway Package:
2 nights accommodations at the Comfort Inn Clifton Hill.
$40.00 dining voucher at Kelsey's Bar & Grill or Boston Pizza Clifton Hill (on site)
Complimentary "Your Morning Breakfast " deluxe buffet each morning
Full use of our tropical indoor pool and giant whirlpool
Free High Speed Wireless Internet access (Wi-Fi) throughout the hotel
Free 24hr.access to the front lobby Internet Cafe which features high speed internet, coffee, tea, printers, etc.
A perfect central location, walking distance to the Falls, Casino Niagara, Niagara Fallsview Casino, and much more!
Additional savings with Attraction, Food and Merchandise coupons.
http://www.cliftonhill.com/packages/hotel-packages/niagara-couples-getaway-package
Package 2: Niagara Falls Family Fun Package:
3 – 5 Attraction FUN PASSES – Good for adult or children admission to the:

Niagara Skywheel
Movieland Wax Museum
Galaxy Golf or Dinosaur Adventure Golf*
Ghost Blasters Dark Ride
XD Theater
Plus game tokens for the Great Canadian Midway

2 nights accommodations at the Comfort Inn Clifton Hill
Children 18 years and under stay free with parents
$30 dining voucher for Boston Pizza or Kelsey's Bar and Grill on Clifton Hill
Deluxe full breakfast each morning served in the Poolside Café
Access to our super large tropical indoor pool and giant whirlpool
Priority parking in our oversized parking area
Located on Clifton Hill – Just one block to the Falls
http://www.cliftonhill.com/packages/hotel-packages/niagara-falls-family-fun-package
Valentine's Day comes only once a year and in honor of this, Kelsey's (attached to the Comfort Inn Clifton Hill) has a customized menu specifically for Valentine's Day. You get 3 courses to share between 2 people for only $50. Or venture into Boston Pizza just adjacent to the hotel for a heart-shaped pizza of your specification!
http://www.cliftonhill.com/restaurants/kelseys-restaurant and http://www.cliftonhill.com/restaurants/boston-pizza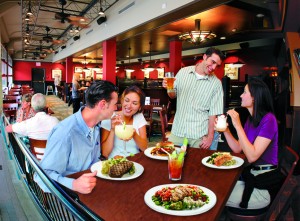 The possibilites really are endless on Valentine's Day. The point is, to truly make a mark on the occasion and fall into her good graces, you need to think outside the box. Flowers and chocolate are all good but at some point you want to try and do something above and beyond what is expected. Girls talk and if you don't think that they do, you're living in a fantasy world!! Ha! We will leave the room and send a text to our closest friend saying "OMG unbelievable weekend!" instead of "Did u get anything for Valentine's Day?" and then be envious for the rest of the day over the fact that she got 2 roses and you only gave 1. I might be over exaggerating a bit, I'm just trying to make you the hero and the modern-day Don Juan to the lovely lady. Think about it.

Christine