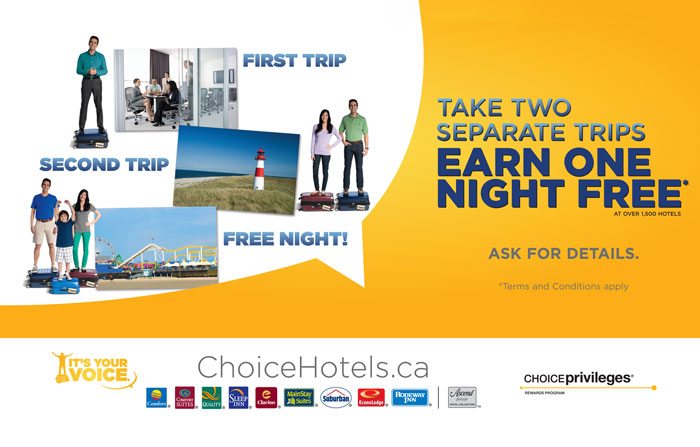 First trip, second trip, FREE night! That's right, the most successful and popular promotion is back this Spring!
It only takes two separate trips to earn one night free with the Choice Privileges rewards program. Register at ChoiceHotels.com to earn one night free when you stay at any Choice Hotels property worldwide during two separate trips, from February 28 to May 15, 2013. Reservations must be made online at ChoiceHotels.ca or by calling 1-800-4CHOICE. For these, and other great member perks, join the Choice Privileges rewards program. It's easy and free to join by signing up at the front desk, online at ChoicePrivileges.ca or by calling 1-866-283-3510.
http://www.choicehotels.com/en/choice-privileges?cp_country=CN&refd=choiceprivileges.ca
With March Break, Spring Recess and Easter around the corner it's an excellent time to take advantage of this deal at the Comfort Inn Clifton Hill! It's just an added incentive to come to Niagara Falls and enjoy your stay, while earning enough Choice Privilege Points to earn yourself an additional free night's stay on your next trip.
 Choice Privileges members must register at ChoiceHotels.com before their first stay to earn unlimited free nights.
If you are not a Choice Privilege member yet, you can enroll at the Comfort Inn between February 28, 2013 and May 15, 2013 and are automatically eligible for the promotion regardless of how you booked your stay!
• Members must book at ChoiceHotels.ca, ChoiceHotels.com, 800.4CHOICE or 800.BO.RÊVES and after your second qualifying stay with arrival between February 28, 2013 and May 15, 2013
you will receive enough Choice Privileges points to redeem for a FREE night at over 1,500 hotels!
• Members may also book via a mobile device and corporate travellers can book through a travel agent or corporate booking system.
• Elite Diamond and Elite Platinum members can book directly with a hotel, however if they book through ChoiceHotels.com these members will receive 100 additional Choice Privileges points with every qualifying stay.
• For Comfort™, Comfort Suites®, Quality®, Sleep Inn®, Clarion®, Cambria Suites® or Ascend Hotel Collection™ hotels, a trip is defined as a stay that is any number of consecutive nights at one hotel regardless of check‐ins or check‐outs.
Program rules and conditions apply, details at www.choicehotels.com

http://www.choicehotels.ca/en/comfort-hotel-cn060
Christine