Niagara Summer of Thrills
Niagara Falls has never had anything like this before! There has always been daredevils and stuntmen drawing crowds to the Niagara Falls such as Nik Wallenda, and the late Jay Cochrane, who would walk a wire between the Hilton Hotel and the Skylon Tower, but those events while bringing in the masses, never lapsed over an entire Summer like the Niagara Summer of Thrills started to do on June 27th, and will continue to do until September 1, 2014!
The Niagara Summer of Thrills is a stunt show starring Texas native Enrique Valencia. For 10 weeks, he has temporarily moved to Niagara Falls to share his daredevil acts with us! Each day (with the exception of Wednesday's and Thursday's), he will perform 2 different types of stunts a day (10 minutes each time), four times a day. At 2:00 pm and 6:00 pm, Enrique will be perched upon the 10-storey Imperial Hotel on Victoria Avenue for the "Wheel of Fate". The wheel is situated on the roof of the Imperial Hotel and is a revolving wheel that Valencia will conduct stunts within — and on top of.
See footage of Enrique performing his Wheel of Fate act here:
At 4:00 pm and 8:00 pm, he drives a motorcycle across a highwire over 30 metres above the ground, that is strung together between the Days Inn Victoria Avenue and the Louis Tussaud's Wax Museum. Suspended beneath the highwire, his assistant will conduct acrobatic routines! This stunt is the "Highwire Sky Cycle" act.
See footage of Enrique performing his Highwire Sky Cycle act here:
Approximately a half hour before each and every routine, fire and chainsaw jugglers from Zero Gravity Circus will entertain the audience and help to build up and liven up the crowd for the main event. The Niagara Summer of Thrills is easy to find. Both stunt acts are located on Victoria Avenue near the peak of Clifton Hill.
*Wheel of Fate is located at the Imperial Hotel at 5851 Victoria Ave.
*Highwire Sky Cycle is located at the Days Inn at 5943 Victoria Ave.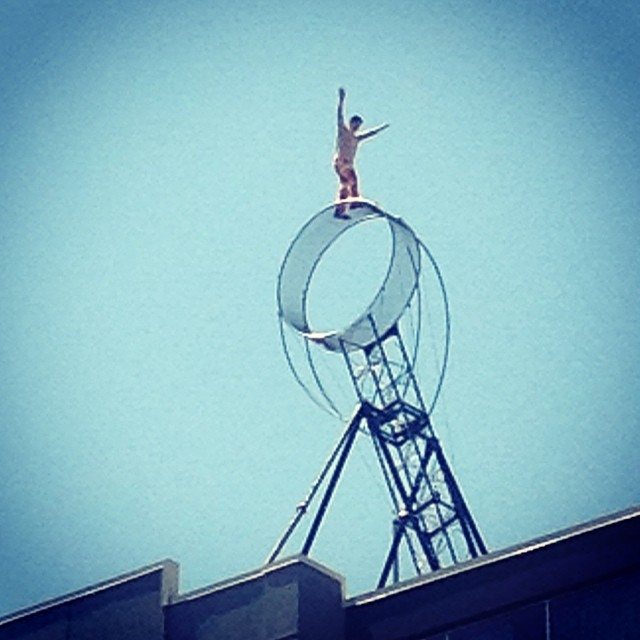 *Pictured Above: Enrique perched on top of the Wheel of Fate — without a safety harness — and already over 100 feet in the air*
There is plenty of parking available just off of Clifton Hill at the map shown below, just a 5 minute walk to either performance. Click the map image below for further instructions on how to access this lot: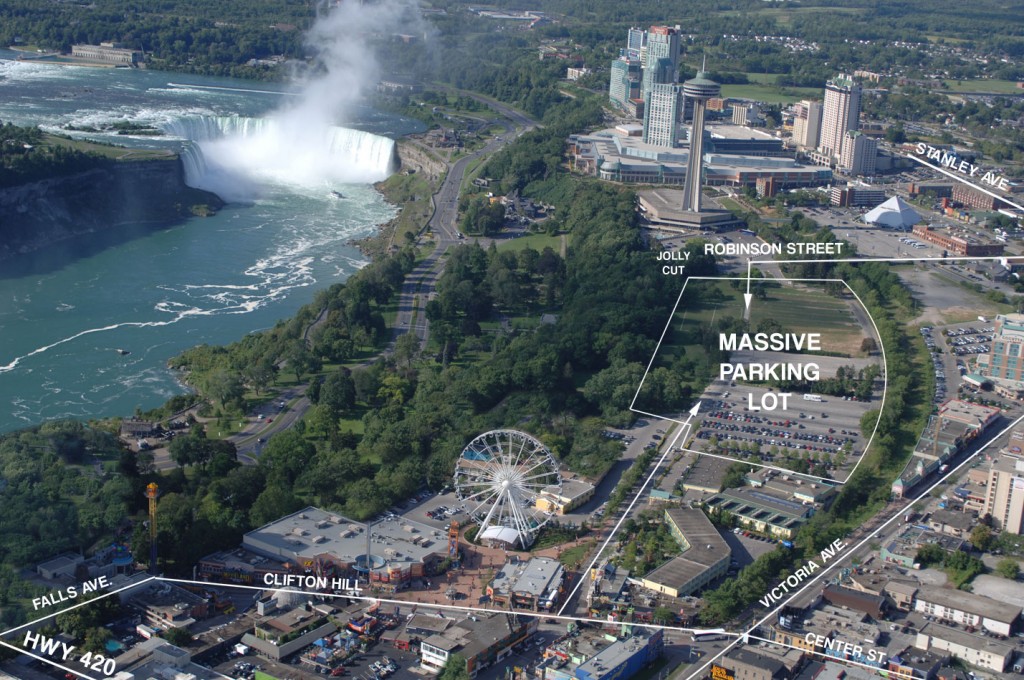 Looking to continue the family fun and excitement after the Niagara Summer of Thrills? Purchase the Clifton Hill Fun Pass for savings on 5 popular Clifton Hill attractions for only $25.95+tax for adults and $19.95+tax for children.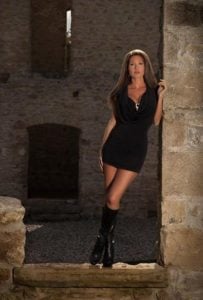 Christine Lynn
Facebook: www.CliftonHill.com/fb
Twitter: www.CliftonHill.com/twt
Google+: www.CliftonHill.com/gplus
Pinterest: www.CliftonHill.com/pin
Instagram: @cliftonhillfun
— clynn