Niagara Falls Christmas Holidays is a Magical Time of Year for Travel
Whether before or after, Niagara Falls Christmas Holidays is a magical time of year for travel!

Comfort Inn Clifton Hill… making this holiday a special time for you and your family.
Niagara Falls Christmas Holidays is a truly amazing time of the year. This is a city that specifically caters to tourists, since an estimated 12 million people visit per year. Yes, the majority travel during the Summer, but when the Winter hits and the temperatures plummet, so does the cost to stay here. There is always something to explore on Clifton Hill. This vibrant stretch of entertainment, dining and attractions offers something to do for the whole family to enjoy. There are wax museums, "haunted houses", the Great Canadian Midway and the Niagara Skywheel to explore, plus so much more! Hours of operation are consistent during the Niagara Falls Christmas Holidays, and the attractions remain open even on Christmas Day (and all other holidays!). There are deals aplenty, with the Clifton Hill Fun Pass being an unbeatable option of 50% off of some of Clifton Hill's most popular attractions.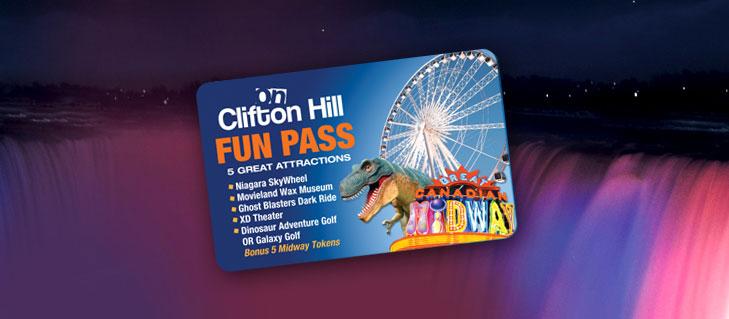 *When purchasing the Clifton Hill Fun Pass online here, you get another bonus admission on the Niagara Skywheel for the same price as purchasing it on location! ($29.95+tax/Adult, $19.95+tax/Child)*
If you prefer to pay as you go, there are coupons and discounts offered online via clicking here for a few family fun activities and dining options located on the "Street of Fun by the Falls".
You can also score big when you stay at the Comfort Inn Clifton Hill when you Build Your Own Package when booking your room online. There are plenty of options to choose from that cater specifically to your individual desires — whether it be for young families looking for fun adventure, or couples simply looking for a romantic getaway…there is a package for you! Booking online is easy and when you do, remember to use our Build a Custom Package link. There you can attach great deals to many attractions directly to your reservation.

There's some great shopping to take advantage of before the big man in the red suit slides down a chimney or the menorah's final candle is lit. There's an incredible selection of unique and timeless gifts at the Canada Trading Company. For gifts a little more out there and fun, the Fun Factory is just the place. And if you're in to pleasing someone's sweet tooth, the Fudge Factory fits the bill. The cool thing about shopping on Clifton Hill, is that you'll find gifts that you'll just never find at the mall. If you're looking for those great brand name gifts at less than a brand name price tag, Canada One Factory Outlets – just a short drive up Lundy's Lane – has 40 stores over-flowing with great holiday deals. Coincidently, the Comfort Inn Clifton Hill also offers a discounted card for this location as one of the Build Your Own Package options. Click here to see how you can save up to 20% for FREE!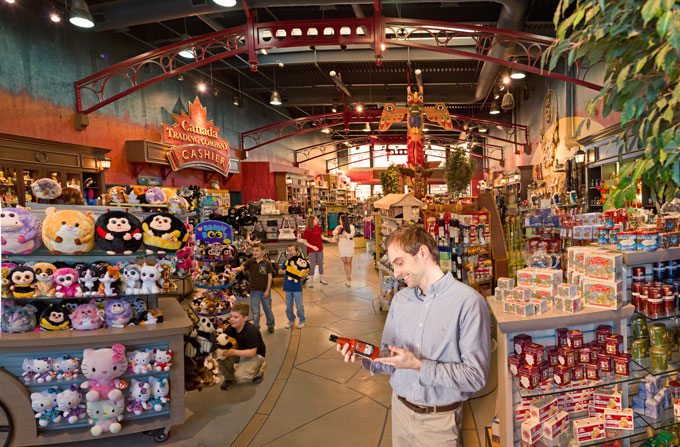 Great gifts and great value aside, the best thing about a pre-holiday vacation to the Falls is getting a chance to kick back and relax – and still get your holiday shopping done. After the stores and some sight-seeing, just pull up a lounge chair or slip into the whirlpool at the Comfort Inn Clifton Hill indoor pool. There's nothing more soothing during the hectic holiday rush.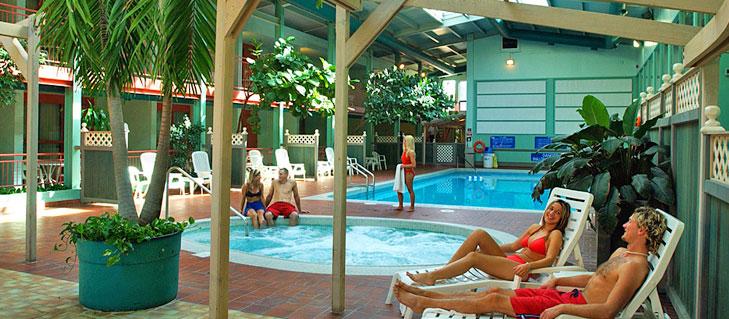 Of course, kids love the holiday rush. They rush out the school doors for an extended break. They rush to the tree on the big day. They rush for things to do during their break. Making your way to the Falls for a couple of days is a great way to spend some quality holiday time with the kids without the rush. Tons of attractions to explore and most just a stone's throw from our front door at Comfort Inn Clifton Hill.

New Years Eve is also just around the corner, and the party this year is really going to be insane! Over at the Niagara Park Commission's beautiful Queen Victoria Park, the Sam Roberts band, Serena Ryder and Demi Lovato headline what will be guaranteed to be an amazing free concert –with Celine Dion delivering a special performance via satellite!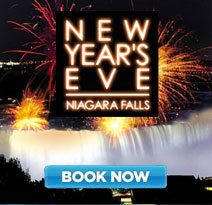 And if the music doesn't provide enough fireworks, there will be TWO showings of the real thing in a spectacular fireworks display at 9:00pm and Midnight. Be sure to arrive early to find the ideal spot to set up and avoid the crowds! For a detailed listing of all the fireworks displays, click here and use this as your source for year round, up-to-date information on all the fireworks showings.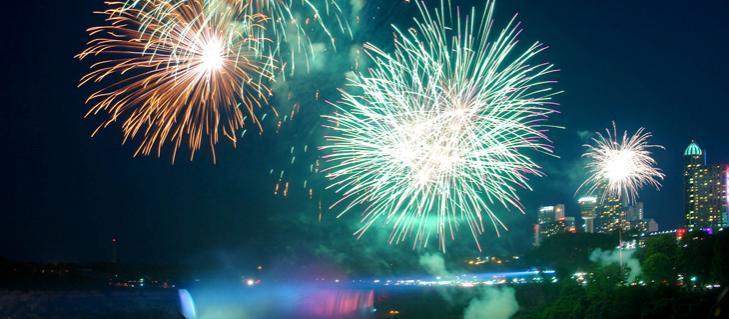 Here are a few things going on during the Niagara Falls Christmas Holidays to see and do:
Niagara Falls Winter Festival of Lights (November 9th, 2013 – January 31st, 2014)
Every year, Canada's foremost illumination festival in the beautiful Niagara Falls captures the magic of the holiday season with the Winter Festival of Lights. It attracts over 1.5 million visitors and hundreds of motor coaches annually.  Recognized as a Festival of Distinction by Festivals & Events Ontario and a Top 100 Internationally Known Event in North America by the American Bus Association for the past several years, and was recently included in the Top 10 Canada's best winter festivals by canoe.ca. Expect to view an array of over 120 animated displays made up of millions of holiday lights! This majestic display frames the most beautiful attraction of all, the Niagara Falls and all along the Niagara Parks "Winter Wonderland" and the adjoining tourist districts.
Rumours Nightclub (December 29th, 2013-December 31st, 2013)

Head the Rumours Nightclub for three exciting nights! Firstly, on Sunday, December 29th they will be giving away tickets to the Miley Cyrus "Bangerz Tour". It will be a fun night of partying, "Twerking" contests — and so much more! And the day before New Years Eve, celebrate early with two of Niagara's Best in one night… DJ Oz-E and DJ Q will be
setting the stage to another great NYE! Spinning the best in top 40, dance and hip hop. And finally (of course!!), New Years Eve at Rumours will be insane!! DJ Oz-E will spin the tunes all night long –
house - hip hop - top 40 - party rock - anthems – dance! Cover is just $40 and coat check and party favours are FREE. Tickets will only be sold at the door, and the party kicks off at 7:00pm. Be sure to arrive early to avoid long lines!
Seneca Casino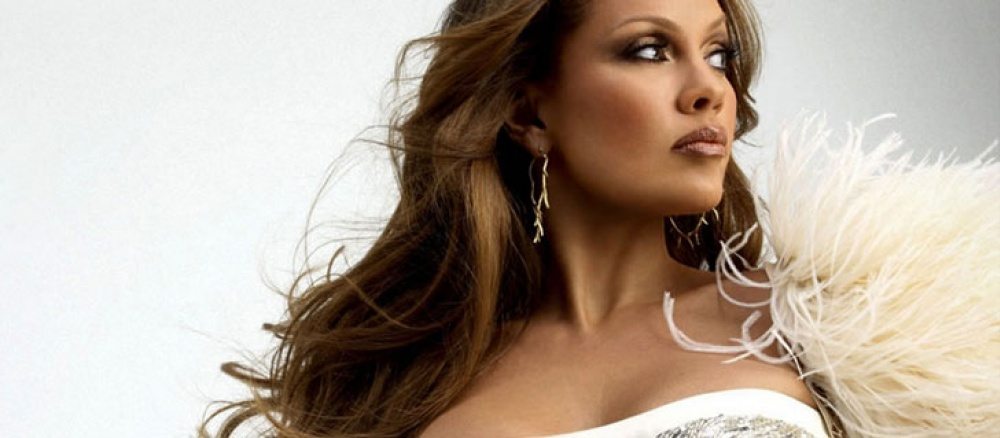 The Seneca Casino presents Kim Mitchell (Friday, December 27th, 2013) and Vanessa Williams (Saturday, December 28th, 2013). For a full list of Seneca Casino's entertainment listings from December 2013 to February 2014, click here for our Niagara Falls events calendar.
Greg Frewin Dinner Theatre (December 31st, 2013):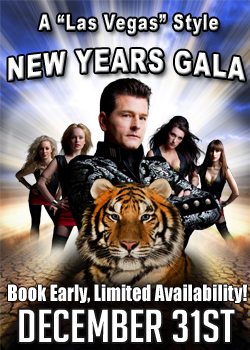 For New Years Eve, the Greg Frewin Theatre presents a spectacular evening of Comedy & Illusion featuring International Grand Champion of Magic and 2009 Magician of the Year – Greg Frewin. Ring in the New Year with dancing to the classics of the 70′s, 80′s & 90′s with the popular tribute band, RENEGADE.
The evening starts with a cocktail reception at 6:30 PM. Indulge in a delicious premium buffet dinner starting at 7:30PM, and then the Las Vegas style entertainment will commence at 9:00PM. Dancing with the live band starts at 11:00PM. Tickets range from $89.98 – $129.98 (dinner and show + HST) and from $59.98 (show only + HST). Click here for tickets.
Don't miss the mystery and art of illusion with Greg Frewin himself, one of the most decorated magicians in the world! His Las Vegas Style Magical Review features spectacular appearances by rare tigers that will leave you captivated! The "Imagine" Magic Dinner/Show runs on a variety of days for the rest of the year into 2014. Click here for the schedule.
Blue Christmas at the Niagara Parks Butterfly Conservatory (Nov. 30th, 2013-January 5th, 2014)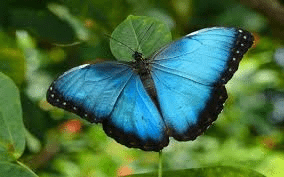 Get your cameras ready! This is a beautiful new exhibit that features over 500 Blue Morpho butterflies as part of the present exhibit of over 2000  butterflies of more than 40 species! There will be festive decor and floral arrangements throughout the Butterfly Conservatory. Admission is: $13.50 (+tax) for adults, $8.80 (+tax) for children 6-12 and free for children ages 5 and under.
The Return of Hypnotist Cyrus at the Scotiabank Convention Centre (December 27, 2013 – January 4, 2014)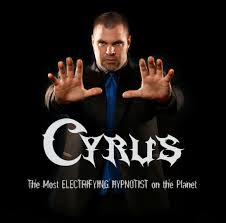 After last July's mesmerizing and highly popular performance in the Fallsview Theatre, "Cyrus the Hypnotist" triumphantly returns to the Scotiabank Convention Centre. Be part of the action, as Cyrus enchants audiences with a series of mind-blowing hypnosis performances! This is a family friendly show (PG).
For ticket information call the SCCN Box Office at: 905.357.7008 or visit: Ticketpro.ca
We're looking forward to offering you a warm welcome, great value and an enviable location at the Comfort Inn Clifton Hill, and a jammed-packed fun-filled getaway over the Niagara Falls Christmas Holidays!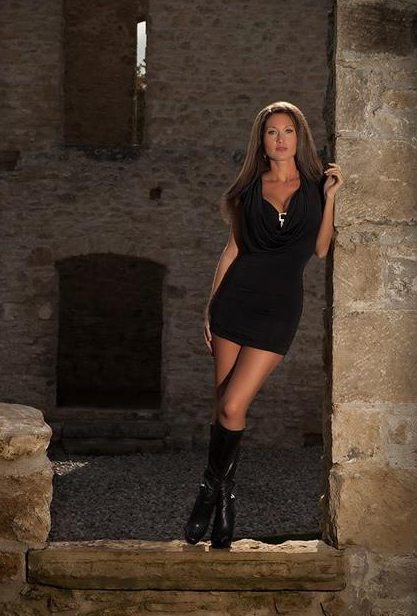 Christine Lynn
Facebook: www.CliftonHill.com/fb
Twitter: www.CliftonHill.com/twt
Google+: www.CliftonHill.com/gplus
Pinterest: www.CliftonHill.com/pin
— Falls_Blog